Storm of the Century!  Or, Not?
by P. Andersen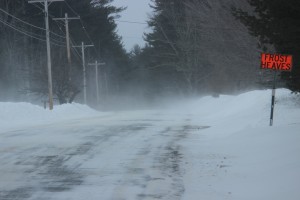 Is Juno coming, or will it be all sound and fury signifying nothing?  We are on the road to finding out, but preparation is key regardless of the result.   Storm preparation is all about accepting as much risk as you can and still be comfortable.  Can you shovel 2 feet of snow?  If not, get a snow blower.  If you can't get to the store, do you have enough food to be comfortable?  You may not need steak, but canned food is important, as is plenty of water.  Being without food or water is not really an acceptable outcome.  What about driving?  We talked about the importance of snow tires here on this blog, and though it is too late today to have them put on, maybe not for the next storm.  Even with those great tires, don't drive if you can't afford to be stuck, and don't drive too far from help.  It is just common sense that you stay home if you can, no matter what tires you are using!  In the end, this may or may not be the epic blizzard of 2015, but you should prepare as if it is.  If it isn't, we can all berate the weathermen and TV talking heads for making a story out of nothing.  Still, I bet those people that were stuck on the LIE for a few days in that last big storm would have preferred to err on the side of caution…
Preparation is what insurance is all about…  The rule of insurance is to insure anything that you would have difficulty weathering without it.  Keep your deductibles as high as you can comfortably keep them, so your costs stay low.  Carry proper flood coverage if a flood would devastate you financially, and you live in an area where the waters may rise substantially.  Prepare for the worst, and then live your life to avoid those events that create havoc.
Be safe out there, it might just be what all those weathermen are predicting!