2018 ANDRUS 90th Anniversary Gala
2018 ANDRUS 90th Anniversary Gala Honoree, Jason Schiciano Acceptance
00:00 I had my music next year let it first be
00:22 50 years old honored by Andres and we
00:35 congratulate you on 90 years of
00:37 excellent history but I'm really
00:40 wondering how we're going to get from 50
00:43 tonight but for me this night is really
00:48 about human connections a few years ago
00:52 I was talking to my friend and he
01:00 realized that together the wonderful
01:03 opportunity to make a connection between
01:05 love at first and animus and for the
01:08 past three years we've been leaving a
01:11 skeleton crew back at our office in
01:14 Tarrytown and those of you that were on
01:16 the skeleton crew raise your hand
01:18 thank you for a hanging back our
01:26 insurance clothing put on jeans and
01:30 t-shirts and headed over to Andres or a
01:33 workday that consisted of real work on
01:39 various projects in Andres and with the
01:43 systems of special Andrus people like
01:45 Fiona Stefan
01:48 Juliana Brianne Eric and Hector through
01:53 some hard work of bee sting or to a lot
02:04 of laughs our connections with Andres
02:06 have grown over each of our three years
02:10 there as we worked on site and beside
02:14 the students we've seen the wonderful
02:16 staff of an vez extends a hand to
02:18 connect to the young people that in many
02:21 cases have no other person in the world
02:25 with which to connect and I've seen
02:28 children look at their Andres teachers
02:31 and counselors as you and I looked at
02:35 our own parents when we were young and
02:38 that connection is strong and it lends
02:42 perspective
02:43 Andres makes an invaluable and an
02:47 indelible mark on each child that passes
02:50 through its gates sits in its inspiring
02:53 classrooms walks its beautiful gardens
02:56 and fields in calls Andres home for a
02:59 time on behalf of my wife Andrea my
03:03 sister-in-law of every level my partner
03:06 Ken first and his wife Sue in all of the
03:09 let first family here tonight we want to
03:12 thank Brian Murphy Jason Honaker the
03:14 board of directors in all of our friends
03:17 at Andres for allowing love at first to
03:20 connect with you we want to recognize
03:23 all of you for helping us get to this
03:26 evening and we are proud to participate
03:29 in your future success thanks very much
2018 ANDRUS 90th Anniversary Gala Honoree, Ken Fuirst Acceptance
00:00 [Applause]
00:05 you have as we're sitting there working
01:01 in a garden or painting the walls in the
01:04 classroom or decorating your birdhouses
01:06 and a compass it really is a
01:14 reflection that you guys take this
01:15 seriously it's not a day off you realize
01:18 the impact of what we're doing and how
01:21 we're changing people's lives and that
01:23 really means a lot to Jason I and that's
01:26 why we continue to do things like this
01:28 because we are changing people's lives
01:30 so thank you to all eleven first
01:33 employees in everything guys
01:41 tonight we're chasing I very rarely get
01:44 to see the spouses of our employees and
01:47 Jason likes to say frequently in company
01:50 meetings now you end up spending more
01:52 time with your you know work partners
01:56 than you do with your own families so we
01:59 just I just want to thank the spouses
02:01 and significant of others of our
02:03 employees for supporting the employees
02:06 we're tolerating their stories that they
02:08 group us bring on that idea and
02:10 everything else that you do so that they
02:11 show up the next day with a smile on
02:13 their face thank you
02:16 [Applause]
2017 Business Council of Westchester Hall of Fame Award in the "Family Owned Business" category
Levitt-Fuirst is honored to have received The Business Council of Westchester's 2017 Hall of Fame Award in the "Family Owned Business" category.
Click the image above to watch the short video the Business Council created to tell the story of Levitt-Fuirst.
00:00 [Music]
00:06 Levesque first is one of West Chester's
00:08 largest independently owned insurance
00:10 agencies we're a third-generation agency
00:13and while most agencies of our size have
00:16 long since been bought up by the
00:17 national brokerage firms we remain
00:19 independent and growing level first
00:22 insurers both businesses and successful
00:24 family construction insurance real
00:27 estate insurance general business
00:29 insurance and the personal side we
00:31 specialize in insurance for successful
00:33 families that have a lot of assets to
00:35 protect Lebanon did buy my partner Jason
00:38 skis jános father-in-law Dave Leonhard
00:40 and my father Alan first when Jase and I
00:43 joined in 290 the firm was a small 12
00:47 person insurance agency and we've grown
00:49 it to 60 employees at this point we've
00:51 recently moved to a brand new
00:53 state-of-the-art 10,000 square foot
00:55 office in Tarrytown New York our growth
00:57 has taken us well outside the boundaries
00:59 of Westchester and in fact we do
01:01 business in almost every state in the
01:03 country in an industry that's dominated
01:06 by the large national firms we're still
01:08 doing business the way my father-in-law
01:10 Dave Leavitt and Kent's father Allen
01:12 first did business when they first
01:14 started out decades ago we're still
01:16 going out to the client meeting with
01:18 them face to face picking up the phone
01:20 and talking to them instead of just
01:22 sending emails all day long we've hired
01:24 some of the best people in the insurance
01:27 industry to join love at first over the
01:28 last 20 years and we've invested in them
01:31 we're now a 60 person family and in 2015
01:35 business insurance magazine recognized
01:37 us as one of the best places to work in
01:40 the insurance industry every time a
01:42 competitor gets bought out it's an
01:44 opportunity for us to hire the best
01:46 people in the industry who realizes the
01:48 culture change at their place of work
01:50 and want to come to a more
01:51 family-oriented environment frankly that
01:54 that's the family part of the
01:56 family-owned business it's everybody
01:57 that's a part of our company right now
01:59 and in the future we were very
02:00 appreciative that the Business Council
02:02 of Westchester recognized us as a
02:05 successful third generation because
02:06 statistically most companies don't make
02:09 it to the third generation
02:10 and we thrived
On April 25th, we received the award on behalf of the Levitt and Fuirst families, as well as our family of 62 employees.  The 15th Annual BCW Hall of Fame Celebration was held at Glen Island, in New Rochelle, NY.
Many of you knew, and did business with David Levitt and/or Alan Fuirst. As we approach our 50th Anniversary, we are proud that the business Dave and Alan founded together in 1969 is being honored by The Business Council of Westchester.

Levitt-Fuirst now employs a staff of 62, which is double our size from just 10 years ago. We are humbled that this business has thrived and grown, because of successful and loyal clients and friends, like you.
On behalf of Levitt-Fuirst, thank you for your business and your support. Award celebrations come and go, but business relationships that span years, decades, and even generations, are hard to come-by.
Jason C. Schiciano, Co-President
Ken Fuirst, Co-President
2017 "Top Specialist Broker" in Real Estate & Construction
Insurance Business America Magazine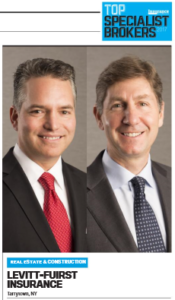 Levitt-Fuirst was named 2017 Top Specialist Broker in Real Estate & Construction industries by Insurance Business America Magazine.  The award is a great honor for our agency, validating our long and influential relationship with both of these key industries.
Our commitment to the industries can be seen in our two managed workers compensation safety groups, Safety Group 458 for contractors, and Safety Group 530 for real estate property managers.  These groups offer 20-30% discounts over comparable New York State Insurance Fund policies, and have been effective advocates for both industries in matters of insurance and legal liability.
In addition, Levitt-Fuirst works closely with The Building & Real Estate Institute of Westchester to offer informative articles, presentations, and services to assist BRI members in managing their businesses insurance programs.  The highly regulated New York State market requires business owners to find knowledgeable professionals to guide them in understanding the legal requirements, as well as to fight against those laws that harm our business partners (such as the "scaffold law").
2015 Family Owned Business Award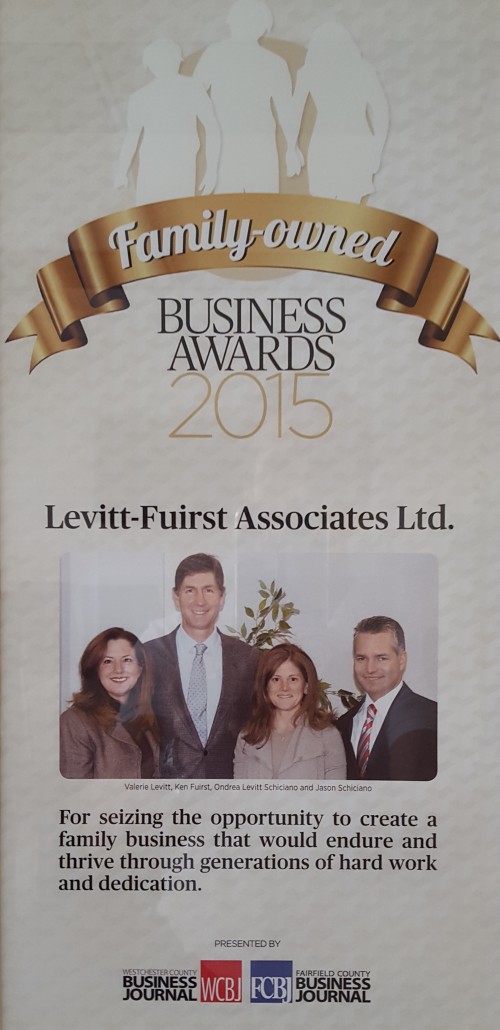 We are proud to announce that Levitt-Fuirst is one of the winners of the first-ever joint Westchester and Fairfield County Business Journal awards for top family-owned businesses. We have worked throughout our company history to have a positive impact on the region, and look forward to continuing to be a leader in Westchester's business community.
Levitt-Fuirst Essay Submission
The following essay was submitted to the Westchester Business Journal by Levitt-Fuirst, focusing on the long history of Levitt-Fuirst in the region.
"One of Westchester's largest independent insurance brokers, Levitt-Fuirst has involved three generations of Levitt and Fuirst family members. Currently the Principals are made up of co-presidents Jason Schiciano and Ken Fuirst, with Valerie Levitt as CFO, and Ondrea Levitt Schiciano, Marketing VP.
Dave Levitt and Alan Fuirst were best friends in law school and when they graduated they each joined their father's insurance business. In 1969 they combined businesses and created Levitt-Fuirst. Over the years, the 12 person firm grew into a very successful, highly respected insurance agency.
The third generation, with the addition of Darryl Friedricks as a key executive since 1994, has grown the company over the last 22 years, and now with 50 employees is one of Westchester's most successful independent insurance brokers. The growth occurred by further penetration of their niche construction and real estate business, and at the same time, by developing a highly successful general business group that services some of the largest manufacturers and distributors in the area.
Levitt-Fuirst also expanded into the high-end homeowners markets by offering unique services that no other agency in the tri-state offers. They are recognized as a Chubb Cornerstone agent and represent other leading companies like ACE, AIG and PURE.
The Levitt and Fuirst families like to support their employees and the Westchester communities around them. They subsidize gym memberships and bring-in nutritional lunches to foster a healthy environment. And most importantly they give back to the community by supporting local charities including underwriting a Habitat for Humanity project in Yonkers. Over the last two years over 200 man days were spent building the Habitat homes."
2015 Best Places to Work Award
Levitt-Fuirst Associates Named a Best Place to Work in Insurance by Business Insurance Magazine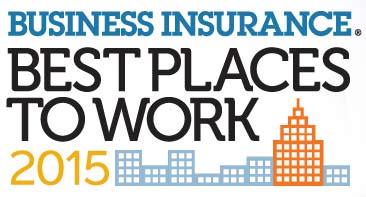 We are proud to announce that the national trade periodical Business Insurance has named Levitt-Fuirst as a winner of their Best Place to Work in Insurance competition!
This summer our 50 employees completed an anonymous survey on their opinions about working at Levitt-Fuirst. This included questions about: their compensation and benefits, how they are treated and respected, opportunities and recognition for individual achievement, what they thought of their co-workers and managers, and some general open ended questions.
Levitt-Fuirst Principals also had to complete an in-depth survey that took about 3 hours to complete. This involved information on: salary distribution, benefits offered, availability of flexible work schedules, number of minority employees, female and minority managers, how do we recognize individual and group achievement, and employee longevity. We also had to submit pictures of activities we do as a company, such as our Habitat for Humanity project, our offsite team building exercises, and our summer fun day at the beach (including employees' family members)!
We know that our employees are our strongest asset. We do our best to help them to thrive, both as individuals and as members of a team. We strive to offer our staff the independence needed to achieve personal success. To retain the best in the industry, we provide innovative incentives, such as subsidized gym memberships and healthy lunches, monthly recognition awards, and fun celebrations (when deserved!).
We are very proud of this Best Place to Work in Insurance award, especially since it reflects that our employees enjoy being part of the Levitt-Fuirst family.