by P. Andersen, 9/13/14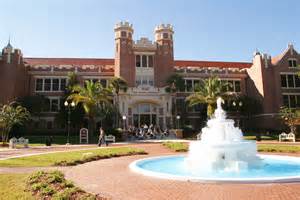 Here I sit, on the tarmac in Houston, Texas, almost to my Dallas destination. I am heading to the first game of the year for my college team, the reigning national champion Florida State Seminoles. Whenever I go see a college game, I think about those college years long long ago with a mix of yearning and wonder – such an amazing time. At this moment, I am also thinking about the insurance implications of sending that 18 year old me to college – the auto insurance and health insurance questions, primarily. I thought, as I dream of a repeat national title season, that maybe explaining what you need to know would be a good idea, since many of you are watching your kids exit for college too…
Auto Insurance:
Let's start with your auto coverage. If you are sending your child to a school located over 100 miles away, and they are not bringing a car, those years of high rates with your youthful driver may well be at an end! With your son or daughter at college, your insurance will usually be based only on the drivers living full time in your household. This is not a hard and fast rule, and each carrier is different, so call us to discuss your auto policy specifically to see if this rate drop applies to your situation.
Sending your child to school with a car, or to a school within 100 miles of your home? Well, no real news here – the car and child stay on your policy, or they will have to get their own policy. This I where good grades and defensive driver classes will help save you money.
Health Insurance:
Now, about that health insurance… First and foremost, health insurance is so very important to your college bound child. When at school, they will have all the risks they face at home and then some. Being confident that he or she is covered is essential to your emotional wellbeing, and the new health insurance rules will help you with that. One of the big benefits of the new healthcare legislation is the ability to have your children covered on your health insurance policy until they are 26, and your employer may have purchased a rider that will extend that to the age of 29. This is not dependent on your child being in college, but is for any child that would otherwise be uncovered.
For your college bound child, there are often insurance plans offered to university students at a reasonable rate, and you may be able to receive financial aid to attain it. You can weigh the costs of the college plans vs. the cost of keeping your child on your policy, giving you the potential to save some money while still being secure in the safety of your son or daughter.
So, you see, there are benefits to your son or daughter heading off to school (besides turning that disaster area of a child's bedroom into your office/gym/evil mastermind headquarters). There is potential auto insurance savings, and the peace of mind that even far from home, your son or daughter will have the benefits of health insurance coverage.
Now, if you don't mind, I have a football game to prepare for, a tailgate to attend, and a first step to the next national title. Jerry Jones has been kind enough to offer his stadium for the noble cause.
Addendum:
Well, my team won a close game against the feisty Oklahoma State Cowboys, who apparently did not get the memo that FSU is exceptional. The trip was an amazing one, however, and Dallas proved to be a truly enjoyable city. On game day, the college students were uncountable, and my hope is that your kids can experience all the amazing things college has to offer, including the camaraderie and solidarity of a school team to root for. While doing so, may the never need the health insurance you are certain to get for them, and may this life changing time be the first step in their happy, healthy, prosperous lives.
https://www.levittfuirst.com/content/uploads/2014/11/insurance-specialties-slide.jpg
470
1349
pandersen
/content/uploads/2014/09/Levitt-Fuirst-logo-web.png
pandersen
2014-09-03 20:42:45
2020-12-22 20:00:48
Your New College Student: Insurance Questions and Answers