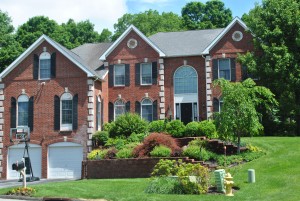 by P. Andersen
Back in May, I wrote a blog about home efficiency. That included some ideas on how to improve your home's efficiency (logical!), but recently I found additional information that will assist you in paying for those money saving updates.
As some of you read a while back, I bought my first home in 2014. Though small, my electricity bills remain higher than I would like them to be. Part of that is simply using too much electricity, with TV's and fans and such running 24/7 it seems. Part of it, though, is the house itself. For example, my house came with original 1950's appliances, and only recently did I replace them. That change should bring the electric bill down, but I don't know how much yet. Other efficiency opportunities include improving the insulation and air tightness, adding solar power, replacing regular thermostats with smart thermostats, and potential savings in the home heating and water heating departments.
The question I asked myself is, "How do I find out what changes will have the biggest impact, and how do I pay for it?"
If you are live in New York, the answer might just be New York State…
ConEd, New York State, and Your Home
There was an article in a recent New Yorker magazine that talked about the difficulty of energy reform in our nation. Energy companies have a stake in you using more energy, but with more energy requirements come more energy sub-station investment. A big, potentially unnecessary expense. Why unnecessary? Because while the utility must generate enough energy for peak usage, the output is underutilized the rest of the day and night. There is a LOT of room for improvement.
The article discussed the energy utilities and their needs, when weighed against the benefits derived from energy savings for both you and the state and national governments that regulates the utility. As you can imagine, the country also wins if we all use less energy… The upshot was that many states, New York included, have embarked on a path that would work to make homes more energy efficient, and would subsidize the owner's cost of doing so.
I am taking the first step this summer, and you can too – simply go to http://stars.nyserdagreenny.org/ and sign up for a free home energy assessment. From my research, here is how it works…
Pick a contractor from the NYSERDA website.
Apply for a free energy assessment (a $250 value).
Once approved, schedule your assessment with your chosen contractor.
After your contractor does an inspection, you will receive a list of updates you can make to save energy, and an proposal for the work.
If you accept the contractor's proposal, they will make the agreed upon changes. The total cost is reduced by 10%, paid by NY State, and there are three payment options:

Continue paying your current (pre-repair) estimated energy bill. The difference between what you are paying, and the new, lower energy costs will go to pay for the updates.
Get a low interest loan from NY State.
Pay for the updates up front.
I hope I qualify for the first option, but a low interest loan makes sense too. Either way, I expect my long term expenses will go down considerably, all with the help of New York State. Act now, though, as the program is new, and there is no guarantee it will last (though I expect it to become the standard).
With NY State's help, there really is no reason to live in a house that isn't energy efficient. Imagine saving thousands of dollars a year, starting now, simply by signing up for a free assessment. You win, the contractor wins, the state wins, and the utility breaks even. That is some good math…
https://www.levittfuirst.com/content/uploads/2017/07/House-scaled.jpg
1703
2560
pandersen
/content/uploads/2014/09/Levitt-Fuirst-logo-web.png
pandersen
2015-07-08 15:50:24
2020-12-18 20:43:59
Good Math: Home Efficiency in NY State