by Alan Mani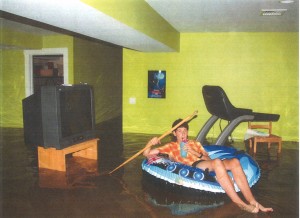 Here at Levitt-Fuirst, we pride ourselves on providing excellent service to our customers. Whatever they need help with or need help understanding, we have them covered. That is why we have started our "Coverage of the Week" blog. In it, we will discuss a particular coverage, to educate and clarify a particular topic.
Today? Today we are talking Flood Insurance. What is it, when do I purchase it, do I need it? Well, with the help of one of our personal lines members Erica Faigman, we have the answers down below just keep reading!
What is flood insurance?
Flood insurance covers direct physical loss caused by "flood." In simple terms, a flood is an excess of water on land that is normally dry.
Who should have flood insurance? Do I need it?
Every home in our region should have flood insurance – and that is the case for most of the US. It is a matter of where and how your home is setup that determines the cost. Homes are placed in flood zones based on that area's likelihood to flood. One thing to remember is that no matter where you are, you are in a flood zone; it's just a matter of how susceptible that area is to flooding. A house can be in a flood zone x which means they are low risk or they can be in a flood zone a or v which are high risk zones.
During hurricane Sandy, flood damage was wide spread as oceans encroached, rivers rose, creeks flooded, and rain poured down. Coastal homes in Greenwich, and inland homes in Armonk flooded alike, the Saw Mill River and the Bronx River crested. The point? You just never know, so preparation is key.
How much does it cost?
The answer to this question takes a few variables into consideration. If you are in a zone x, b, or c there are no further variables to consider. The cost to insure a zone x, b, or c house is not very expensive; maybe $500 a year. There is something called base flood elevation (BFE), which is a strong determinant of your flood policy pricing. BFE is where the water level is expected to rise during a storm. If your house is above the BFE you will have a cheaper premium as opposed to someone whose house is below the BFE.
Now if you are in anything BUT an X, B, or C zone, you will need an Elevation Certificate which is the document that will tell you what BFE you are. Without an Elevation Cert, your insurance carrier will give you the highest rate. Usually the Bank will order one before they approve a Mortgage, but if not, you will need to contact an engineer yourself.
When do I purchase it?
In certain high risk flood zones, you HAVE to purchase it in order to get a mortgage. If you are in this situation, you probably already have it! What about the rest of us, in those zones that are less likely to flood? If we learned anything from Hurricane Sandy, you should purchase this as soon as you can! When purchasing a flood policy, there is a 30 day waiting period before the coverage kicks in, so it is important to be proactive and not wait until a storm is approaching to request a policy.
Flood insurance is an extremely important piece of your homeowners' insurance puzzle. To truly know your risk, and to get an estimate for the coverage, you need to contact your insurance broker. Levitt-Fuirst places flood insurance for our clients across the nation, and can certainly help you with this important coverage. Contact us with questions, we will do all we can to help.
These links have some great information, take the time to learn more about Flood Insurance!
What does flood insurance cover? Houselogic clarifies.
https://www.levittfuirst.com/content/uploads/2015/05/Flood.jpg
953
925
pandersen
/content/uploads/2014/09/Levitt-Fuirst-logo-web.png
pandersen
2014-07-21 20:38:29
2021-12-02 14:30:55
Coverage of the Week: Personal Flood Insurance