Insurance Business America Magazine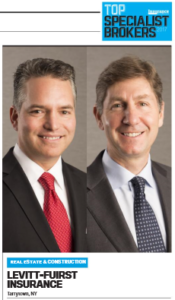 Levitt-Fuirst was named 2017 Top Specialist Broker in Real Estate & Construction industries by Insurance Business America Magazine. The award is a great honor for our agency, validating our long and influential relationship with both of these key industries.
Our commitment to the industries can be seen in our two managed workers compensation safety groups, Safety Group 458 for contractors, and Safety Group 530 for real estate property managers. These groups offer 20-30% discounts over comparable New York State Insurance Fund policies, and have been effective advocates for both industries in matters of insurance and legal liability.In addition, Levitt-Fuirst works closely with The Building & Real Estate Institute of Westchester to offer informative articles, presentations, and services to assist BRI members in managing their businesses insurance programs. The highly regulated New York State market requires business owners to find knowledgeable professionals to guide them in understanding the legal requirements, as well as to fight against those laws that harm our business partners (such as the "scaffold law").
https://www.levittfuirst.com/content/uploads/2017/04/2017-Top-Specialist-Broker2.png
395
230
admin
/content/uploads/2014/09/Levitt-Fuirst-logo-web.png
admin
2017-12-06 14:40:38
2020-10-27 16:10:30
2017 "Top Specialist Broker" In Real Estate & Construction